Academic & Scientific Sector
The academic & scientific sector is a key player for climate change. Among its main activities, the following are of particular relevance:
1. Dialogue with academia.
As the incoming President of COP16/CMP6, Mexico seeks to strengthen the dialogue with the scientific and academic sectors at the national and international levels. For this purpose, workshops will be organized with experts from around the world in different fields linked to public policy design and implementation.
2. Promotion and dissemination.
The Mexican Government's goal is to enhance the promotion of climate change scientific findings among civil society, both at the national and the international levels. For this purpose, a series of conferences will be organized, along with study programs and publications, university programs and, media workshops in this area.
3. Institutional streghtning in Mexico.
Mexico seeks to strengthen climate change research at the national level and to broaden the international network of applied research institutions devoted to public policy design. Some activities have been initiated towards this aim in collaboration with the Science and Technology National Council (CONACYT). Among these, the project for the establishment of a Climate Change Studies Center, where research and academic publications for dissemination on issues related to climate change adaptation will be released is of particular importance.
Academic and Scientific Sector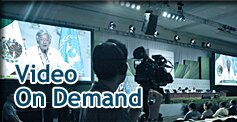 ---

Page 'Breadcrumb' Navigation:
Academic and Scientific Sector
Site 'Main' Navigation: