Ground Transportation in Cancun
All participants are inform that as from today, transportation will oparate 24 hours.
From the airport
Transportation is available from Cancun International Airport to the hotel zone (bus, taxi, and group shuttle service) however these services would be at the participant(s) expense.

The approximate cost for a taxi from the airport to the Cancunmesse is 500 Mexican pesos (50 US dollars)

We recommend the use of official taxi companies at the Cancun airport.

Greenline
Phone: 886 03 27

Taxi by Hertz
Phone: 01800 021 8087

For additional information about the airport and travel requirements click here.
Transport from Airport to Hotel for delegates staying at the Moon Palace
Moon Palace offers the transport service from the airport to all delegates staying in the hotel.  In order to use this service the delegates must do the following:
Notify Moon Palace hotel through their travel agency the date and time of arrival to Cancún airport.
Please take the free transportation provided by the GDS Company. Please look for the signs. They will take you to Cancúnmesse first, where you will go through security check and the accreditation center.
Once registered, the delegate will be able to take the shuttle bus to the Moon Palace, which will be departing in Hall C of the Cancunmesse.
Please do not take unauthorized transportation at the airport with direct payment to the drivers.
During the Conference, transportation wil operate 24 hours a day, within the established routes.
There are 9 bus routes free of charge for participants between the Cancúnmesse and several hotels in Cancún and the Riviera Maya, including the Moon Palace, main venue of the UN Climate Change Conference.

For more information download the List of official hotels and Route Hubs.



Ground Transportation in Cancun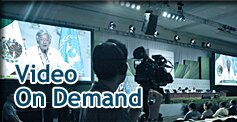 ---

Page 'Breadcrumb' Navigation:
Ground Transportation in Cancun
Site 'Main' Navigation: