Climate Change Village
Welcome
The Government of Mexico has the responsibility of hosting and organizing the sixteenth session of the Conference of the Parties of the United Nations Framework Convention on Climate Change (COP16) and the sixth session of the Conference of the Parties serving as the meeting of the Parties to the Kyoto Protocol (CMP6). Both meetings will be held in Cancun, Mexico, from November 29th to December 10th, 2010.
Representatives from 194 Parties, including ministers and heads of state, United Nations delegates, accredited non-governmental organizations and international media will be present for the duration of the Conference.
Therefore, the Federal Government has decided to create the Climate Change Village, a space to promote dialogue related to environmental issues amongst non-governmental organizations, the private sector and civil society.
The Climate Change Village will offer to the public free of charge:
Thematic exhibitions on the subject of climate change, including "La Neta del Planeta" from the Papalote Children´s Museum, which includes an explanation to what climate change means, its origins and what everyone can do in order to take action.
Willy Sousa´s exhibition "Mexico en tus Sentidos", which has had enormous success showcasing images and videos on Mexican identity. 
Clean energy exhibitions from businesses as well as sponsors concerned with the environment.
Artistic and cultural events as well as concerts that will be held every night at the music festival "Singing for the Planet".
Moreover, non-governmental organizations will have a space for debates as they discuss their projects related to climate change issues. Also, the COP16/CMP6 event will be broadcasted at different rooms at the Free Expression Forums.

Welcome to the Climate Change Village.
The Federal Government
---
Activities at the Climate Change Village
Participation
Sustainability
Venue
Sponsors
Events calendar
Activities at the Climate Change Village

Participation

Sustainability

Venue

Sponsors

Calendar

Events Calendar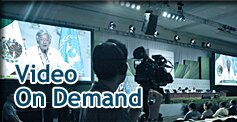 ---

Page 'Breadcrumb' Navigation:
Site 'Main' Navigation: