The Private Sector and Climate Change
All living creatures share the same atmosphere. Therefore, climate change mya be deemed the only truly global phenomenon, equally affecting developing and developed nations. The effects of the progressive warming of the Earth have the potential to adversely affect adequate energy supply, causing changes in goods and services distribution and consumption. Hence, the important risk posed by climate change to current production systems and to the quality of life of the world´s population. 
The fight against climate change is one of the biggest challenges facing humanity in this century. And although today everyone recognizes the need to reduce greenhouse gas (GHG) emissions, the measures aimed at achieving these goals are still not in place due to more ambitious commitments on mitigation, technology transfer and financing.
In this regard, any program for tackling climate change should be aimed at lining up the reduction of GHG emissions with economic development. Countries like the United States, Germany, South Africa, Indonesia, Mexico and Korea have demonstrated their capacity to reduce GHG emissions without compromising the growth of their economies. For instance, Mexico has benefited from external financing mechanisms such as the Montreal Protocol to replace domestic appliances using obsolete technology that damaged the ozone layer which represented a significant source of GHG emissions. Our country has also opted for carbon storage through reforestation and soil rehabilitation activities, and the use of compensation schemes in well-preserved forest areas for their conservation. 
The need for combining adequate financial, human and technological resources destined to large-scale production of "environmentally-friendly" products and services in a profitable and competitive way is one of the major challenges inherent to combating climate change. In the transition to a green economy, the private sector plays a key role, especially in the area of innovation. In this regard, a study carried out by the Inter-American Development Bank shows that in 2007 the private sector alone contributed most of the resources earmarked by developed countries towards R&D (circa 2.3% of their GDP).
The fight against climate change has led to significant changes in production processes. More and more companies are implementing more efficient practices in their use of water, energy and raw materials, as part of a socially responsible culture, through which tangible economic benefits are garnered. Some companies have opted for the use of goods and services associated with lower GHG emissions in order to limit their fossil fuels dependence. Organizations, countries and entrepreneurs that choose to promote change will receive the most benefits and profits in the long run and will escalate in the global competitiveness ladder.
At present, the most committed governments have targeted their efforts in achieving a better quality of life to their populations and to future generations. As the basis of sustainable development, this aspiration requires governments to strive for ecological integrity and climatic balance without jeopardizing the prospects of improving their citizen's quality of life. A project of such scale entails joint and coordinated action of governments, private enterprises and civil society. Unquestionably, the mobilization of all stakeholders towards this common goal constitutes a great challenge. It is also a great opportunity for reversing climate change adverse effects, as the most pressing environmental task of our time.
The Private Sector and Climate Change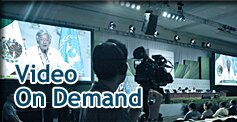 ---

Page 'Breadcrumb' Navigation:
The Private Sector and Climate Change
Site 'Main' Navigation: