Accommodation
Beginning April 16, 2010, "Turismo & Convenciones" will be responsible for hotel accommodations. Reservations can be made online at:
Book here (Recommended for individual reservations)
Alternatively, you may call +52 /10/11/12. (Recommended for special requests and group reservations)
It is highly recommended that delegations requiring a large number of rooms make their reservations through a central contact to ensure that all financial arrangements are handled properly for the duration of the event.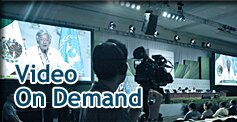 ---

Page 'Breadcrumb' Navigation:
Site 'Main' Navigation: