Customs information for participants of COP16/CMP6
In accordance with current Mexican customs law, all international passengers must clear custom at the first point of entry México, thus passengers must pick up their luggage, clear customs, and then check it in again in their correspondent  flight connection.
New or used items and goods considered as part of the luggage of international passengers are clearly identified in the next link:

http://www.aduanas.sat.gob.mx/aduana_mexico/2008/pasajeros/139_10134.html

Passengers arriving at Mexico bringing along merchandise and goods different from their luggage will be able to import them through the payment of 16% import tax at the port of entry, without hiring the services of a customs agent. The following exceptions apply:
Articles or goods requiring particular import permits issued by a specialized Mexican government agency (Health, Agriculture, Archeology, Environment, Armed Forces), as well as goods like wood and wooden products, plants, seeds, grains, like animals, among others.
Goods difficult to identify given their presentation as powders, liquids, or gases, requiring chemical or physical analysis to determine their nature, origin, and other necessary characteristics to determine their customs status.
In these last two cases, importation needs to be done through cargo customs, hiring the services of a customs agent, who will help to comply with customs formalities.

If any passengers fail to declare any good different from his or her luggage, which requires a permit from a specialized government agency, he or she will be subject to applicable fines and penalties. See:

http://www.aduanas.sat.gob.mx/aduana_mexico/2008/pasajeros/139_10134.html

As a suggestion, participants might want to hire the services of a shipping or parcel company of their choice, to help them with customs procedures.

As per requirement of the UNFCCC Secretariat, information on three companies is provided below.  There is no obligation for participants to hire their services and the government of Mexico cannot be held liable nor responsible for their services:

Cargo Live
Global Events Network
Ph:
Fax:
Diego Marinelli – Director
E‐mail:
Millenium Cargo, S.A. de C.V.
Ph: / 
Fax:  Ext.15
Email: Jorge Vizcarra
JAGUAR TRAFIMAR LOGISTICA, S.A. DE C.V.
Ph:
Fax:
Miguel Angel Lara A.
Operations Director
E-mail:   
If bringing more than US $10,000 dollar or its equivalent in other currencies, in cash, checks, money orders or any other monetary instrument, or a combination of them, participants must declare the exceeding amount. Participants will not have to pay duties or taxes, but they must declare the exceeding amount on the corresponding Customs Declaration form. Failing to declare it is a violation of Mexican law that may be sanctioned with administrative and even criminal penalties. See:
http://www.aduanas.sat.gob.mx/aduana_mexico/2008/pasajeros/139_10236.html
Registered media representatives attending COP16 will be allowed to temporarily import goods and professional equipment required to perform their work. For that purpose they will need to fill out a customs form for temporary imports ("Solicitud de autorización de Importación Temporal"), and they will need to obtain a sealed certification by any Mexican embassy or consulate which must include the list of professional equipment to be imported, detailing the type, brand, origin, serial number, and estimated value of each item.
Governments importing goods to be used/distributed at COP16/CMP6 can do so through the diplomatic procedures currently in effect. See:
http://www.sre.gob.mx/protocolo/privilegios.htm 
Participants, through a customs agent, will be able to import merchandise to be distributed at no cost at the COP16 premises. This would be the case of promotional goods, T- Shirts, brochures, calendars, posters, among others. Importation should be done through a cargo customs office complying with customs formalities and if the following criteria is met:
Unit value shall not exceed US $50 and the merchandise should be clearly identified by labels or logos of the event (COP16/CMP6).
Unit value does not exceed US $20 dollar and the merchandise should be clearly identified with the logo, label or slogan of the importer, exhibitor or sponsor.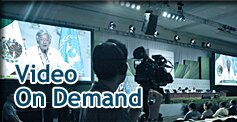 ---

Page 'Breadcrumb' Navigation:
Site 'Main' Navigation: