News
Competition of hybrid vehicles against conventional vehicles
Hybrid cars made their presentation in the COP16/CMP6 Go Karts circuit located next to the Climate Change Village. This event aimed to demonstrate that renewable energy vehicles are a good option for the future.

In the first part of the event, an electric-powered hybrid motorcycle race was held, in which representatives from 15 countries participated, which was won by the representative from Germany, followed by Switzerland and Australia.

In the second part 12 vehicles, 100 percent electric, competed, driven and created by students from various colleges in Mexico, such as the Instituto Tecnologico de Estudios Superiores de Monterrey (ITESM), Politécnico Nacional (IPN) and Tecnológico de Mérida as well as the universities of La Salle, National University of Mexico (UNAM) and University of Yucatán. Participants were able to show where automotive technology is going and these vehicles are the ones that will move the future generations.

In the end, prototype electric formula 3 vehicles competed against conventional cars, which are fueled with gasoline, where the winners were those of electricity consumption, which reached a speed of 250 kilometers per hour.
Keywords
Climate Change, Formula 3, Cancun, COP16, Climate Change Village, vehicles, cars, UNAM, IPN, ITESM, Go Karts, motorcycles
In this section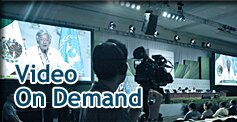 Day 1

Day 2

Day 3

Day 4

Day 5

Day 6

Day 7

Day 8

Day 9

Day 10


General Overview

Day 11

Day 12
Page 'Breadcrumb' Navigation:
Site 'Main' Navigation: