News
Forum on Climate Change Communication
"The costs of climate change will be larger than the efforts to stop it," said Mario Molina, Nobel Laureate in Chemistry, in the Communicating the Science panel of Forum on Climate Change Communication organized by the Ministry of Foreign Affairs (SRE) in Mexico and The Pew Center on Global Climate Change.
According to Molina, there must be the perspective of a scientist as a communicator. "There are those who believe and those who do not believe in climate change, we wish to put both sides of the controversy, so scientists should give adequate information."
 Jose Sarukhan, National Coordinator of the National Commission for Knowledge and Use of Biodiversity (CONABIO) said that "scientific information should not stay in the laboratory or in the classroom" and gave as an example of a successful case of communication, the avian flu in which various media could report the case firmly and seriously.
He reiterated that the scientific community has first-hand information, so "scientists must disseminate it."
 The panel stated that the science of climate change is being well taken by governments and they have helped raise the issue, so scientists have wondered about what they can do about it, although they consider that "there is certain hostility to climate change science," said Simon Lewis, a member of the Royal Academy of the United Kingdom.
The solution lies in the scientific community, "the answer is straightforward: to help as much as possible and to force journalists spread the truth of the matter with reports that tell the problem clearly and truly."
Keywords
SRE, COP16, climate, climate change, United Kingdom
In this section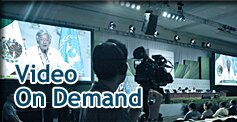 Day 1

Day 2

Day 3

Day 4

Day 5

Day 6

Day 7

Day 8

Day 9

Day 10


General Overview

Day 11

Day 12
Page 'Breadcrumb' Navigation:
Site 'Main' Navigation: