News
An evening with Fernando de la Mora
The Mexican National Symphonic Orchestra and Fernando de la Mora in concert
Fernando de la Mora, one of the most internationally mexican tenor, delighted the audience during the concert Singing for the Planet, at the Climate Change Village on Wednesday night.
Along with the Mexican National Symphonic Orchestra, the tenor sang
Bésame mucho
and
Voy a apagar la luz
, among other songs.
Regarding Mexico's role as the host of the COP16, Fernando de la Mora said that it "is wonderful, such a great responsibility, but above all this, an opportunity to be the carrier of good news. (The COP16) is opening the door for us and for the responsibility for the environment to be our country's new cover."
In the middle of the Magnum Forum, the tenor also sang
México lindo y querido, La Bikina, Júrame
and other traditional Mexican songs, accompanied by the
Vive Mexico Xcaret Mariachi
, getting a several minute standing ovation by the audience, which asked the tenor to sing yet another song.
"This is my chance to express my own concern for the environment, I feel we can no longer put off the solutions, we must act, we must be responsible," stressed Fernando de la Mora, who recommended dividing our trash and saving water to take care of the environment, things he does himself in order to fight Climate Change.
Keywords
fernando, mora, village, change, climate, cancun, cop16, mexico
In this section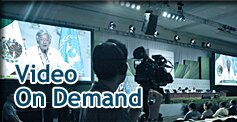 Day 1

Day 2

Day 3

Day 4

Day 5

Day 6

Day 7

Day 8

Day 9

Day 10


General Overview

Day 11

Day 12
Page 'Breadcrumb' Navigation:
Site 'Main' Navigation: