News
AWG-KP approves draft accord
Will be passed to the plenary of the Conference of the Parts for approval
Delegates in the Ad Hoc Working Group on Further Commitments for Annex I Parties under the Kyoto Protocol (AWG-KP) adopted a draft proposal of the Cancun Accords that aim to redefine how countries combat climate change. The document will be submitted to the plenary of the Conference of the Parties (COP) this weekend for approval.

AWG-KP President John Ashe quickly reviewed the document's main points, which were spelled out to delegates hours before an informal meeting with the President of the Conference of the Parties, Ambassador Patricia Espinosa Cantellano. At that meeting, the Parties suggested that they would adopt the accords.

The majority of AWG-KP members agreed with the document's details, with the exception of Bolivia, who intervened on two occasions to express that the document's targets for reducing greenhouse gas emissions were too low to stabilize the global temperature at 2 degrees Celsius above pre-industrial levels.
Keywords
cop16, cmp6, cancun, accord, awg-kp, kyoto protocol
In this section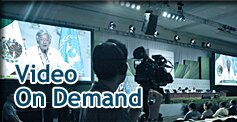 Day 1

Day 2

Day 3

Day 4

Day 5

Day 6

Day 7

Day 8

Day 9

Day 10


General Overview

Day 11

Day 12
Page 'Breadcrumb' Navigation:
Site 'Main' Navigation: