News
Climate Change and Health: Challenges and Opportunities
Mexican Secretary of Health spoke of the benefits of a healthier environment
Jose Ángel Cordova Villalobos, Mexico's Secretary of Health, said in the conference Climate Change and Health: Challenges and Opportunities, held at the Mexico Pavilion at the Cancunmesse venue, that there is scientific evidence that the effects of this weather phenomenon affect human life and the welfare of people, so it is "clear that there is a negative relationship between Climate Change and health."

However, Climate Change, as well as being a threat, "represents an opportunity to promote sustainable development; the activities that countries develop in health issues will bring many benefits in the work of mitigation and adaptation," said the Secretary of Health of Mexico.

"The World Health Organization (WHO) is proposing a basic package of public health interventions to be incorporated in all these adaptation funds that we hope will be made available to countries and that they incorporate this basic package," said Maria Neira, Director of the Department of Public Health and Environment of WHO.

"In terms of awareness, we must encourage the knowledge of the serious threat of Climate Change to health, and ensure that health has its rightful place on the agenda," concluded the Secretary of Health of Mexico.

The conference was attended by health ministers from other countries.
Keywords
climate change, health, human life, welfare, science, scientific, mitigation, adaptation, who, weather, threat, Jose Angel Cordova Villalobos, Maria Neira
In this section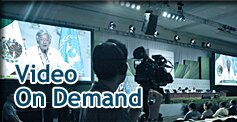 Day 1

Day 2

Day 3

Day 4

Day 5

Day 6

Day 7

Day 8

Day 9

Day 10


General Overview

Day 11

Day 12
Page 'Breadcrumb' Navigation:
Site 'Main' Navigation: